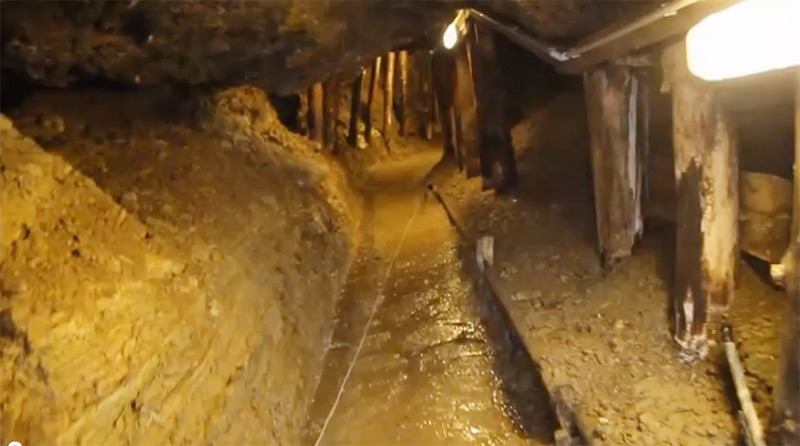 Tunnel Ravne – Huge network of underground tunnels, intersections, chambers and water accumulations was constructed under the Bosnian Valley of the Pyramids. Discovery of the labyrinth was predicted by discoverer of the Bosnian pyramids dr.sci. Semir Osmanagic in his book in October 2005. He based it on similar cases in Egypt, China and Mexico. Until then, narrow entrance and one tunnel were considered a "natural cave".
Persistently working, Foundation has proved the existence of complex labyrinth tens of kilometers long. Distance from the entrance to the Bosnian Pyramid of the Sun is 2,9 km. Two cultural layers are visible: original builders of the labyrinth more than 12.000 years ago (at the same time they were the pyramid builders) and civilization who sealed off the tunnels and chambers 5.000 years ago. During the labyrinth building, thousands of tons of conglomerate material were moved out. It was later used as a construction material for concrete to coat the Bosnian Pyramid of the Sun.
There is no negative radiations in the labyrinth: cosmic (Hartman's, Curry's, Schneider's grids), natural radioactivity or negative energy from underground waters. Therefore, it represents one of the most secure locations on the Planet used for health protection. Foundation has been cleaning and securing by wooden support existing pre-historical tunnels that lead toward the Bosnian Pyramid of the Sun (southeast direction).
Air circulation is perfect and it allows normal breathing all the way. It was made possible by different ceiling heights that caused different air pressure pushing the air as a natural fan. Slope is at the 1,5 degree that was same slope we use today for the fine water drainage. Negative ions concentration is dozens of time higher than average. It would make atmosphere clean of bacteria and viruses which would explain benefits to the human bodies inside this complex.